This site is made possibly by the following proud sponsors.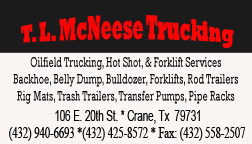 If you would like to be a sponsor of this site,  send a business card or a 2" h x 3.5"w ad to castlegapbassbusters@yahoo.com or fax to (432) 558-2507.  A business or individual can be a sponsor.

The fee for this sponsorship is $10.00 per club year and all proceeds go to the Castle Gap Bass Busters Club.